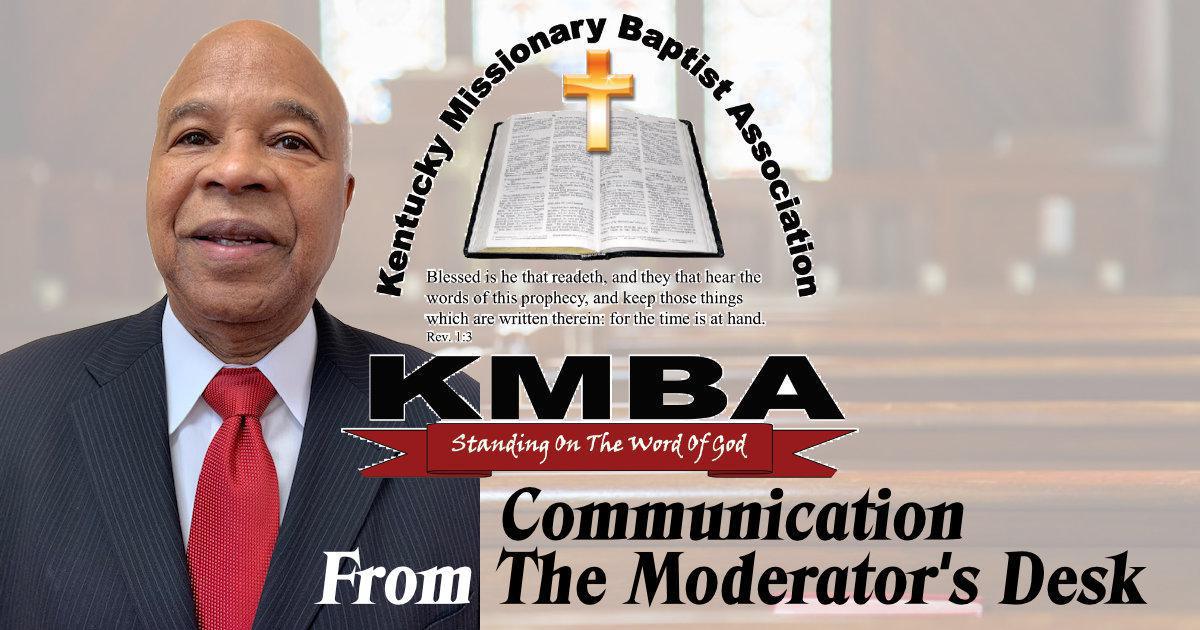 May 23rd, 2022
Ref: Mid-Year Session and Annual Session
Dear Brothers and Sisters in Christ,
I pray this letter finds you blessed, by being well and prosperous in Christ. Please take note of the first bit of information contained herein concerning our Mid-Year and Annual Sessions. Let's all of us make a concerted effort to attend these Sessions, because Fellowship is one of the most important aspects in the life of an Association. So, I'm looking forward to seeing you there!
Our Annual Mid-Year Session, hosted by our Women's Missionary Auxiliary, will be held on Saturday, June 25th, 2022 from 10:00am to 12:00 (EST). A catered box lunch will be served afterward, more info on that will be forthcoming. Sonora Baptist Church, Pastor William McCann, will be the Host Church. However, they will be utilizing the facility of Little Zion Baptist Church in Glendale, Ky. We have met there before. The address is 7151 New Glendale Rd, Glendale, Ky. 42740. It's just a mile or so off Interstate 65, South of E-Town. Pastor Charles Fishback, 1st Vice Moderator, Pastor of Mt Union, Smiths Grove (The newly-wed!!), will be bringing the Preached Word. Let us be in prayer for him and for Sis Augusta Mason, President of the Women's Auxiliary, and her staff. See you in Glendale for the Mid-Year Session!
Our Annual Session will be held for two days, on August 16th – 17th and hosted by First Baptist Church Perryville, Pastor Jeffery Yocum, 3rd Vice Moderator. The address is 310 West First Street, Perryville, Ky. 40468. We will be having some great preaching and teaching from our very own Pastors. Also, let us be supportive and prayerful for our Auxiliary Presidents and their programs, Deacon Fant, Laymen, Sis Calvonia Radford, Ministers Wives, and Sis Agusta Mason, Women's Missionary. You will be receiving the programs for both of these Sessions very soon, via Postal Mail and/or E-Mail, and hopefully on our Webpage.
For our Annual Session in August, Pastor Yocum has reserved a block of rooms at Holiday Inn Express, 200 Shannon Way, Danville, Ky. 40422, which is a very short drive to Perryville on US 150 West. The rooms are blocked from Monday Aug 15th thru Thursday Aug 18th. These dates will accommodate those who wish to arrive on Monday night the 15th, and stay over on Thursday the 18th. The rates for the rooms are $99.00 each. The phone number is 859-209-2728. Sis Crystal Yocum is our Group Contact with the hotel, her phone is 502-827-9295. The cut-off date to register for this special rate is July 15th.
Remember, Churches with less than 100 members are asked to register for the year with $200 and those with more than 100 members are asked to register with $500. For each, the registration can be done by paying 50% at the Annual Session and 50% during the Pastor and Church Growth Conference.
Lastly, on that Thursday the 18th, we are asking the Program Committee to meet at the hotel and perform an evaluation of the Session, called a "Plus/Delta" analysis. This will help us identify our strengths and our weaknesses, so that we might improve our yearly meetings.
Lord willing, we'll see each other in June and in August!
Yours in Christ,
Al Taylor, Moderator